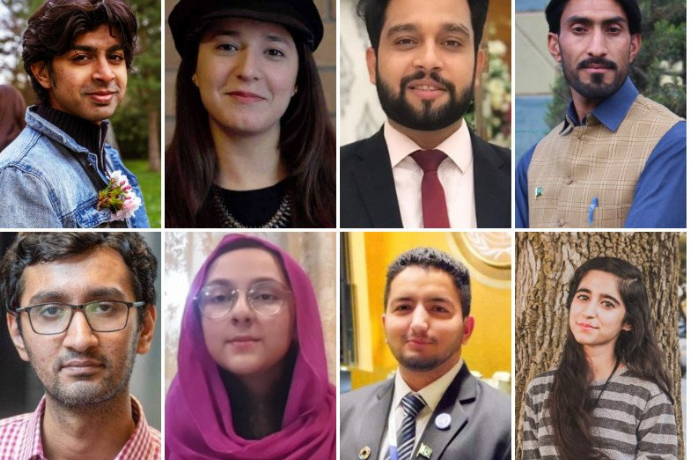 Eight Pakistanis who won the prestigious Diana award
Princess Diana has been a source of inspiration everyone including me, even after she passed away. The Princess of Wales was a role model for many when she was alive and her philanthropic and social work initiatives were to help the people around the world despite their social background, class or geographical location.
In recognition of her services, a prestigious award was dedicated to her name and presently awarded to young people around the world who follow her footsteps and are involved in humanitarian activities which bring about a positive change in the society. In over 20 years, more than 50,000 young people have been bestowed this award in recognition to their philanthropic activities. This is one of most esteemed award and is considered as the highest tribute that is bestowed to young people because of their charitable and altruistic efforts.
Recently, eight Pakistani's have been awarded with this prestigious award because of their social work and the positive change they brought to the society. The awardees include three young girls and five boys hailing from different cities of Pakistan. Let's get to know a little more about the humanitarian efforts of these young Pakistanis.
Ayesha Sheikh
Aged 17, belongs from Sukkur, was bestowed this award in recognition of her contributions to promote quality education, improving health measures and producing sustainable solutions for various problems arising in the community. Moreover, she has also organized youth conferences and developed campaigns to promote women empowerment and also voice human rights for people around her in the community.
Yumna Majeed
Aged 23 and resides in Lahore. She received the award for promoting space science and space education. She has also worked with astronauts from NASA and visited more than 30 schools conducting over 50 sessions for awareness on space education. The motivation behind doing all this, as she explains is the dream of becoming an astronaut which she explained that she was ridiculed about.
Izat Ullah
Who is a citizen of Quetta, Balochistan. Compared to the rest of the provinces of Pakistan, Balochistan is much more underdeveloped so bringing out a humanitarian effort that could contribute to the betterment of people in this community is a big thing, Izat Ullah has worked for directly supporting over 5,000 young Pakistani and becoming their career counsellor, especially during the COVID pandemic. He has provided almost 3,000 scholarships to students and food rations for 1000 families during these difficult times of the pandemic.
Zubair Junjunia
Aged 23, from Karachi, Sindh received the Diana award in recognition of his blog, where he shared resources that he had created for his own exams. He has shared these resources completely free of charge and he goes by the statement that quality education is a basic right for everyone and not a privilege that only those get who can afford it.
Muhammed Asim Zubair
Aged 24, belonging from Bahawulpur, was also given this award in recognition to his contributing activities as a frontline health care worker during the initial times of the pandemic COVID-19. He produced more than 5000 bottles of hand sanitizer and distributing it to people to stop the spread of the virus. Asim has also represented Pakistan as a youth ambassador in the United Nations and displayed our soft image, and how proud we are to be a Pakistani.
Muhammad Hamza Waseem
This award was given in recognition to his contributions towards cofounding a student-run magazine called Spectra in the year 2017. More than 225 science articles based on research were published in this magazine. Hamza has also mentored more than 200 students as a science journalist.
Hassan Ashraf
Aged 25, from Faisalabad, received this award for creating his not for profit organization called UMEED. This NGO work for educating children, has 20 branches across the country and has helped educate more than 1500 students across the country.
Eiman Jawwad
Last but not the least, Eiman Jawwad, is so far the youngest Pakistani to receive this award, She is only 16 years old. Her efforts to reach out to Lahore largest burn centre has been recognized and was bestowed upon with the Diana award. She has distributed more than 1200 garments to more than 700 patients and she continues to do so.
Pakistan in strong country with even stronger people who have extremely kind hearts. These eight people have been recognised with the award, but there are thousands of young and old Pakistanis who carry out humanitarian activities every day. We must look around and learn from these people and try to carry out a good deed, even if it's a small one. Bringing a smile on one's face could be like a drop of rain in the desert. More power to this brilliant young Pakistanis and Long Live Pakistan. Ameen.
Pakistan Zindabad,

Content writer, educationist, teacher, researcher, social media manager, and a SEO from lahore. She has been working as a freelance academic and non-academic writer for more than 10 years now. She has a passion to learn new things and has a knack for writing and she combines both things to produce write ups she pours her heart out in.