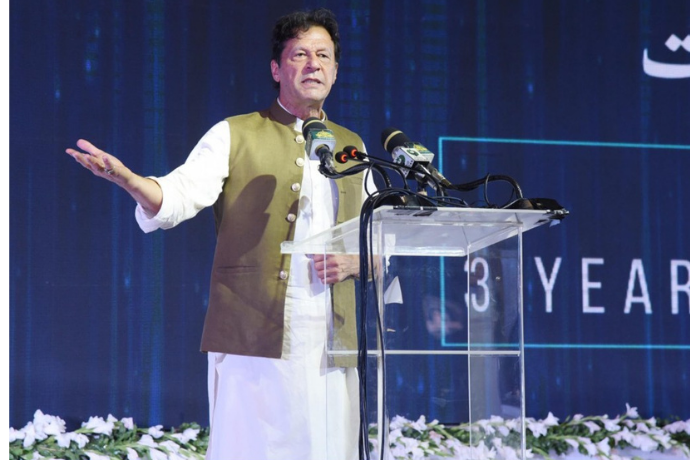 PM Imran Khan addressing at Punjab Education Convention 2021
Prime minister Imran Khan addressed the Punjab Education Convention 2021, on Wednesday, 25th August, 2021. Punjab Governor Chaudhry Muhammad Sarwar, Chief Minister Sardar Usman Buzdar, provincial ministers, provincial authorities and a large number of people were present on the occasion.
In his address, he strongly condemned the English medium educational system exclaiming that we had inherited the system from the British. The main aim of this system was to create a class difference in India and to produce British minded thinking but with an Indian colour, so they could govern such a big continent through people who thought like them. The Prime minister further stated that corrections in this education system should have been made after we got independence from the British and such a system should have developed which contributed in creating a nation without any class differences. Instead, three different kinds of education systems were developed, namely, the Madressahs, the Urdu medium schools and the English medium schools.
"The English-medium [system] evolved in such a way that there was less emphasis on education and more emphasis on creating 'desi vilayati' (local foreigners). The attitudes and mental slavery of another culture were absorbed (Imran Khan)."
He elaborated on his personal experience and explained that after he had graduated from Aitchison College and he went abroad for higher studies, he felt that he had been made an English public school boy who was not representing Pakistan as he was being distanced from the Pakistani culture and religion through this English medium education system.
The Prime Minister further said that the need of the hour was to produce mind sets that had honesty and integrity filled in them and these two qualities are the hallmark of true leadership, very like our leader Holy Prophet (P.B.U.H).
The Prime Minister also exclaimed that it is important to impart quality education to the young people. The systems should be inculcated with use of modern technology, yet the character building should also be done. It is imperative to guide and educate our young people about the supreme qualities of Seerat-e-Nabi (PBUH) for their character building.
Prime Minister Imran Khan in his former addresses also has been talking about laying emphasis on education reforms. He added "No one ever thought of one curriculum in the country,".
The prime minister said the English language should not be made a status symbol and expressed his displeasure at conducting official functions in English language as majority of commoners who watched TV did not understand it. In parliament, he said, speeches had been made in English language to impress the people. "It should be used as medium for getting higher education. Mother tongue is the best medium for imparting education to the children which is helpful in their understanding," he exclaimed.
Chief Minister Punjab Sardar Usman Buzdar, on the occasion, said that budget allocation for the education sector was enhanced besides, over 200 per cent allocation for the higher education. Primary education throughout the province had been ensured with drastic steps, he added. The online services and facilitation was provided to the teachers and students, besides focusing on the education of transgender's community. Provincial Minister for Education Murad Raas gave an overview of the steps taken for the promotion of education in the province.

Content writer, educationist, teacher, researcher, social media manager, and a SEO from lahore. She has been working as a freelance academic and non-academic writer for more than 10 years now. She has a passion to learn new things and has a knack for writing and she combines both things to produce write ups she pours her heart out in.