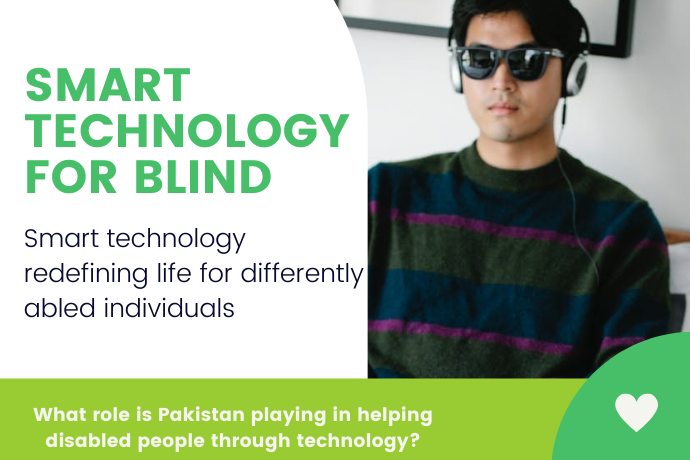 Smart technology redefining life for blinds
Due to advancement in technology, our life has become a lot easier –not only for us but also for the people with special needs. The smart cap for blinds is the recent breakthrough for disabled individuals in Pakistan.
There are 650 million people around the globe suffering from different disabilities. Until now, they have lived their lives depending on their family members or caretakers. However, biotechnology has reshaped their lives by introducing innovative prosthetics and smart accessories for enhanced mobility. Compliant technologies help relieve the pain associated with artificial limbs.
Besides, technological advancements are not limited to the prosthetic industry. Smartphones have made the lives of people with visual impairment and blind people.
How Gavin Neate eased the lives of people with visual impairment with smartphones?
Gavin Neate, from Edinburgh, established a company named Neatebox to introduce methods to make the lives of blind people more accessible. While working as a guide dog trainer, he was inspired to see how blind people were using technology.
One of his first products was a system that allowed blind people to control their pedestrian crossing using their smartphones. Later, the company introduced an app that helped blind people communicate their needs before arriving at the business, for instance, shops. More than 2,000 people use the application called 'Welcome' in Scotland, and there are high hopes of taking this initiative further.
How is the DynaVox EyeMax System making the lives of people with a disability easy?
This system allows individuals with paralysis, stroke, and cerebral palsy to engage in spoken communication using their eye movement. People with the disability mentioned above use the eye-tracking system to interact with an on-screen keyboard. The system allows them to enter words or phrases later translated to spoken text through the text-to-speech mechanism.
To make the lives easier for the physically impaired, the system provides phrases and words to choose from through pictures and scenes making it accessible for children and mentally disabled people.
What role is Pakistan playing in helping disabled people through technology?
It is not only first-world countries that are technology advanced; a student from Lahore, Pakistan developed a smart cap for blinds to help them walk without sticks.
This smart cap allows the visually impaired to walk alone or even cross roads without any support. This invention is a result of a Final year assignment. While talking about the functionality, Ahmed explained that the smart cap has sensors to alert the person about barriers or hurdles.
The cap has two sensors that would detect any barrier within 2.5 meters. He further explained that the cap includes vibrations to alert the visually impaired person about the hurdles. If the left side vibrates, it will warn the visually impaired about the hurdle on the left and the right side. If both sides vibrate simultaneously, it is warning the person that the hurdle is in front.
Moreover, he says a beep sound will warn about the hurdles in crowded places, where sensors may fail to work.  This beep sound is simpler than the one found in car parking spaces. He wishes to help visually impaired people and urges the government to assist him in achieving his goal.
Tabassum is an experienced writer with more than a decade of work history. Education, social upheaval, health & wellness, technology and fashion interests her the most.