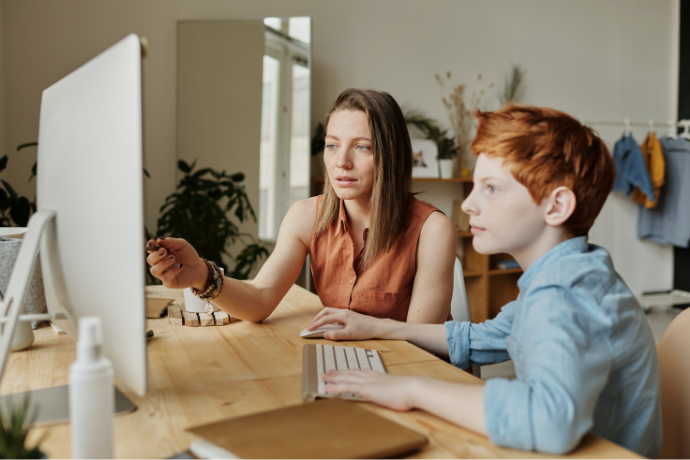 Tips For Keeping Kids Learning At Home
The outbreak of pandemic and closing of schools has left many parents worried about their children. Kids are giving a hard time to their moms as they got freedom from school, homework, and all activities related to study. Moms around the world are struggling to keep their kids in control and to get them to study while the schools remain closed. Keeping the study schedule intact during this pandemic is even a harder task as kids are getting frustrated while being locked in a house. While the mothers have to juggle between keeping their children safe, healthy and, keeping themselves sane, we are there to take away the burden from their shoulders. Here are 10 few tips that help keep your child busy in learning at home without getting bored. Let's get started!
Tip#1 Don't force them to study!
The first thing that many moms need to understand is, "don't use force" instead of making them follow your instructions with their own will. Forcing them to study will not be an advantage as it would take away the essence of learning. Making them study by force will leave them angry and would take away their keenness to learn. Kids lose their interest and focus on forceful learning.
Tip#2 Fun and learn
Make learning fun for them so they don't have to run away from it. Make your children eager to learn by making studies fun at home. There are many ways to make learning fun for your children. You can use your space wisely for this purpose. You can use different rooms of your house for different subjects so that they are not bored while sitting at the same place all day. Use their toys to teach them different concepts. Make them read new stories and use their toys in role plays to make them understand better.
Tip#3 Set up a routine
Setting up a regular schedule for kids is the biggest challenge faced by moms these days. Make a schedule for your children that must include their fun time and study time in balanced proportions.
Tip#4 Keep your kids hydrated
Studies prove that keeping your body hydrated improves your learning ability. Keep your children hydrated for improving their focus. Hydration plays an important role in improving brain function. It is a scientifically proven fact that even 1% less hydration than the normal level can drastically lose focus, cause headaches and fatigue.
Tip#5 Don't let their inner athlete die
Clear out some space and make some time for their physical activity. Do not let their inner athlete die because of their schools and playgrounds being closed. Add specific time for different sports they like to play. Keep their practice going, it will keep them active and happy.
Tip#6 Blend Science with arts
Introduce different artistic activities with their science projects. Make them try new artistic stuff. Invoke their arts and crafts skills to see their overall improvement in their performance. Spending some time on creativity also has a positive impact on their learning.
Tip#7 Maintain a healthy diet
Pay special attention to their diet to keep them learning at home without them falling sick. Include foods that improve their memory and overall health. Maintaining a healthy diet is important for children of growing age.
Tip#8 Connect them with their friends
Due to the ongoing situation of the pandemic, kids are forced to stay at their homes away from their classmates and friends. Connect them with their friends now and then so that they don't feel sad and dissociated from the outside world. Make them discuss their study schedule and learning progress with their friends so they remain motivated to learn.
Tip#9 Use tech to their advantage
With their stay at home, kid's screen time is likely to increase, and he may end up paying less attention to studies. Instead of giving them phones for playing games and watching cartoons, make use of them for their advantage. Use technology to assist their learning by showing them animations and videos related to the concept you are teaching.
Tip#10 Don't be a strict mommy
As you get to stay the whole day together, you need to have a loving and friendly relationship with your children. With all their friends away, their mentors gone, they only got you. You should play your part as a friend, mentor, and nanny while staying their mommy. Create a loving and friendly environment so that they follow you out of love, not strictness. However, remaining a strict mother can leave them frustrated.
Azka Noor is a member of UNCTAD Youth Action Hub, Pakistan, and a student of Economics and Political Science at the Lahore University of Management Science. She has specialized in Search Engine Optimization from The University of California, Davis. The author is an avid researcher aiming to shape the lives of millions by pursuing a career in Education and Public Policy and digitally impacting lives by developing effective content marketing strategies.