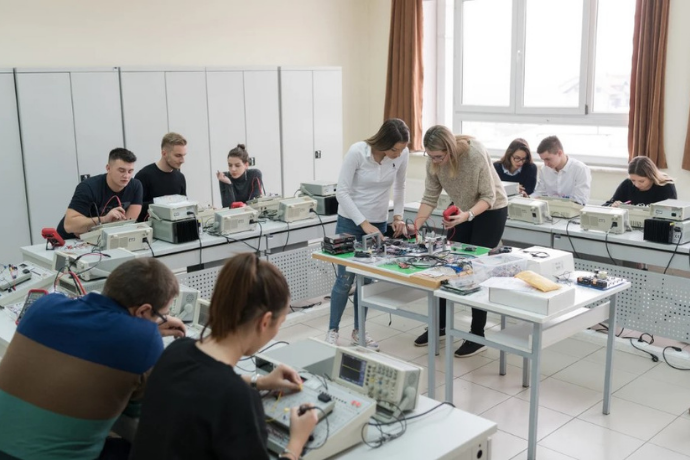 China, Pakistan Start Joint Technical Education Program
Technical Education and Vocational Training Authority (TEVTA), Pakistan has recently collaborated with China on a technical education program. Technical Education is one key element that is missing in the country and the Chairman of TEVTA, Ali Salman has taken the initiative to educate Pakistan's youth. This initiative is being backed by Zalmi Foundation in Pakistan and TANG, a Chinese International Education Group. Ali Salman is hopeful to benefit society from the Chinese expertise in different sectors. China is the leading country in terms of economy, education, and industrial development. China is the best choice to support Pakistani technical education.
So far, only two colleges are being enrolled in this program GCT Lahore and Taxila. However, the Chairman is determined to enter more colleges into this program as this will benefit the youth exponentially. The details of this program are as follows:
A total of three years program
2 years in the designated educational institutes for this program
1 year in Chinese vocational training and technical education college
Students who are enrolled in GCT Taxila will head to Guangdong Institute of Architecture and Construction Engineering China. These students will be given education in the field of Advanced Construction Technology through this technical education program. This will help bring revolutionizing change in the construction sector of Pakistan when these students will head back for work in the country.
Read also: WHAT IS AN ONLINE MBA PROGRAM?
All the students who will be enrolled in GCT Allama Iqbal Town Campus in Lahore will move to Shenzhen. They will be enrolled in Shenzhen College of IT and they will go in the field of Software Technology. Pakistan requires technical skills in the field of IT and software and this course will bring innovative minds back to Pakistan. Software Development is one of the driving forces of any industry in this century. It is necessary to have skilled labor for this purpose so that the industries can benefit from the expertise of these students.
Another benefit that this technical education program is going to bring is that these students can become an asset to the CPEC project. China requires skilled labor for the development of the China Pakistan Economic Corridor (CPEC) project, and this collaboration will bring more workers that can lead this project to success. It is a win-win situation for China to invest in these individuals, as this will not only benefit Pakistan in terms of increased skilled labor but also China for CPEC.
TEVTA wants to increase the international exposure of the students so that they can bring better knowledge back to Pakistan. Pakistan has always lacked skilled labor and this is a step in the right direction as the students will be equipped with useful insights. These students can utilize this knowledge to train the students who could not make it to this program. In this way, the knowledge will trickle to many individuals in Pakistani society. Pakistan requires skilled labor to fulfill its growing demand for workers as the industries are growing. In recent times, Pakistan has seen a boom in the automotive industry and more positions are being opened because of CPEC.
The diplomatic relations of China and Pakistan have always been strong and this step will further strengthen their international relations. Pakistani cannot have a better opportunity to polish their skills so that they are relevant to the industry. This will ensure job security as well which is a major problem in the country. Moreover, the students can add value to their education venture by learning Mandarin during their stay. This will help them in the future as China is soon going to become the superpower in the world.
Educations.pk is an online educational portal of Pakistan, working on mission to help students; teachers and parents get the right educational updates online.