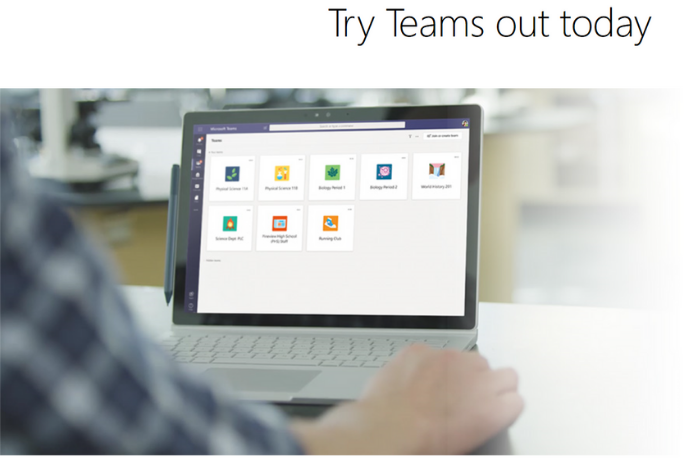 Microsoft Teams – A Quick Guide
Microsoft Teams is a collaboration and communication tool. Educators can create collaborative classrooms, connect in professional learning communities, and communicate with school staff – all from a single platform.
Microsoft Teams, a service that combines the capabilities of predominantly text-based services – with video and audio conferencing services more along the lines. The result is a complete way to organize online collaboration that almost completely negates the need for another virtual collaboration service from Microsoft Skype.
Speaking of which, let's take a look at what else you get with Microsoft Teams for its multitude of features.
Using Microsoft Teams for Education
The educational version of Microsoft Teams provides a virtual classroom with conversations, video calls, content, tasks, and applications that help continue distance learning.
Today technology takes on special relevance in our society, and it does so as a facilitator of teaching and learning. It is helping students, teachers, administrative staff of educational institutes, and families to continue trusting on remote training.
The technology has been a clear commitment to Microsoft for a long time and, besides, it makes the educational processes easier to access and use.
Millions of people, including teachers and students, have been affected after the pandemic. As some schools look to continue learning remotely to keep their students and teachers safe, the educational version of Microsoft Teams provides a virtual classroom so everyone can find new ways to stay focused on learning.
Free for schools and universities, Teams integrate conversations, video calls, content, homework, and applications in one place, allowing teachers to create live learning environments accessible from mobile devices, tablets, PCs, or browsers.
Teams Distance Learning Features
Microsoft Teams have taken into account the needs of teachers and students to add features that contribute to online learning in different contexts.
For example, all participants in video calls can choose different views depending on the type of meeting: gallery, dynamic view, or together. On the other hand, Teams will also allow teachers to divide students into smaller groups from one main room.
Some options have been designed to work collaboratively in real-time with students, as well as functions to manage pending assignments. A series of controls for teachers in different facets of online teaching will also be added.
During the meeting, teachers have more control over who will join the class. There will be more specific functions to control different details of the meetings to prevent students from causing riots. And once the video call is finished, they can download a support report to verify all the details.
Microsoft also announced that it has increased meeting capacity to 1,000 participants, and up to 20,000 in attendee mode. Other novelties revolve around the activities of the professions concerning assignments, evaluations, and team building. You will find a series of new functions and dynamics that simplify the distance learning processes.
For Teachers
Using Microsoft Teams, teachers can engage students in project-based learning with text, video, and voice. This conversation experience offered by Microsoft Teams makes learning more visible and accessible to the entire class.
Teachers can create a safer and more productive environment through Microsoft Teams thanks to different functions such as:
Deleting messages
Mute students
Pause class conversations
The four new functions of education are:
School Data Sync: Synchronizes the data of the student lists through the information system of each school.
OneNote Class Notebooks: Teachers can organize interactive lessons and provide personalized teaching information directly in class.
Office 365: Teachers will have Word, Excel, PowerPoint, and Planner available to personalize the experience in their classes.
End-to-end homework management Allows teachers to take control of their activities and receive feedback quickly and easily.
For Students
Students interact and socialize with a larger circle of influence that enables them to improve communication, collaboration, critical thinking, and creativity.
Microsoft Teams has revolutionized the way the entire school communicates. It has been allowed to reduce the number of email messages that are sent due to having a central location, where conversations are held and files are stored.
How to use Microsoft Teams?
Microsoft Teams is the easiest to use as a desktop app or a web app. There are mobile versions, but desktop and web apps are easier to use.
In the desktop or web app, you see a panel on the far left with primary navigation, a secondary panel, always on the left, with additional navigation options, and a large central window for interactions.
The main navigation consists of the following actions: Activity, Conversation, Teams, Calls, and Files. As the name suggests, the Activity tab displays a summary of your account activity. The "Conversation" tab is for direct messaging, and Teams are proving to be the primary interactive space for conversations. Of course, calls will allow you to make video calls, audio calls, and share your screen with your team members.
Define your team: With each team, you have channels. You might assume that the channel is where members of the same team chat synchronously or asynchronously, but no. Each channel has tabs, and the "Conversations" tab is where the chats take place.
Customizing team spaces: If you know what you want to achieve with your teams and their tabs, you have the freedom to customize the space by adding and removing the tabs you want. You can customize these spaces to a very fine level, creating a space to store all the knowledge, raw information, and knowledge that your team members collectively hold.
Microsoft Teams gives you tight control and the power to organize team interactions, which is in stark contrast to the flow of conversations you're likely to find in a channel.
Create channels: Channels can be created within each team and, in a practical way, differentiating different groups.
Applications and integrations: Teams can integrate with a long list of other apps and services, offering particularly tight integration with other Microsoft apps. Along with Office apps, Teams support real-time content creation integrated with Office Online for free accounts and Office apps for paid accounts.
External Applications: To each Microsoft Teams' dashboard, you can add new tabs or tabs with external applications that provide new functionalities and give more versatility to the team, such as an integrated Excel, a Power BI panel, a Trello dashboard, Word documents, and many pluses.
Mute notifications: The ability to selectively mute notifications is crucial to the effectiveness of a team chat application and an individual's ability to focus. With Teams, you can turn notifications on or off for each channel. However, you need to go to each channel to change it, rather than the app settings where all the other notification options reside.
Standing out from competing services, Microsoft Teams has all the basics of a competent and collaborative video conferencing service, without too many drawbacks.
Microsoft Teams earns points for being highly customizable, supporting a wide range of apps and integration services, and touching all of the major features you'd expect to see for distance learning.
We are learning a lot from schools around Pakistan that are enabling remote learning in innovative ways and here you can find examples and learn more about Microsoft Teams for Education. No matter what tools are used, we wish the best for students, teachers, staff, and families.