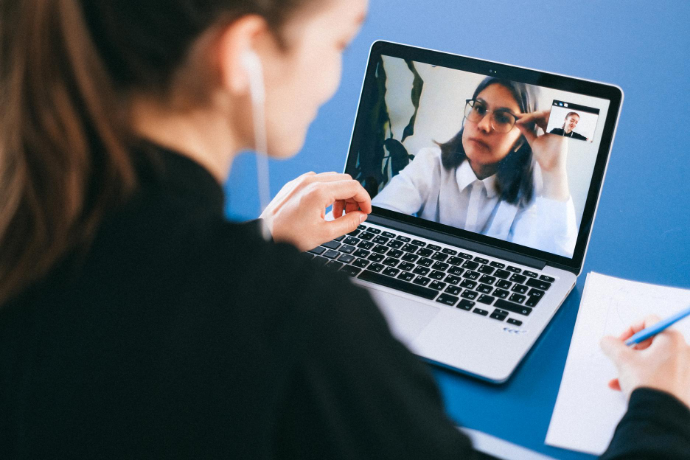 Google Meet For Educators And Students
Google Meet is a videoconferencing service by Google. Initially included in the G-Suite service for businesses and educational institutions, it becomes available to the general public for free.
Recently Google decides to make its video conferencing service accessible to anyone with a Google account. This service offers more options than the simple use of Google Hangouts, restricted to 10 users and without screen sharing.
Google is, therefore, entering the field already occupied by Zoom, Skype, Microsoft Teams, and Facebook Messenger (with its Facebook Rooms).
Why to use Google meet?
It was above all a platform dedicated to professionals with a G-Suite account. Now accessible to everyone, it, therefore, enables videoconferencing in good conditions with professional tools.
Google Meet for Teachers and Business Users
Google Meet is intended both for teachers who have to give distance courses (there is a special G-Suite offer for educational institutions) and for employees of companies who are teleworking and who have to participate in meetings, or business or sales managers, who need to meet clients remotely, but also individuals who want to keep in touch with their friends or family.
Google Meet is therefore accessible to anyone with a Google account (Gmail address or account created with another address).
Google Meet allows you to create video conferencing rooms that can accommodate up to 100 people. The mosaic display allows, meanwhile, to have up to 16 webcams at the same time on the screen. Google Meet allows screen sharing.
As for screen sharing, if you are using Google Meet in Chrome, you will have the option to choose one of Chrom's tabs for sharing. It also helps to share videos with better quality.
Regarding the videos of the participants, a tool has been put in place to manage the videos with low light (the brightness depending on the environment in which the user is), so that the other participants can correctly see the video.
First, session times will not be limited. But the free offer limit sessions to 1 hour. A smart audio filter has also been put in place to filter out unwanted sounds and cancel them out when they occur (a barking dog, the sound of keys when typing on the keyboard, etc.) previously reserved for G-Suite, it is now available to everyone.
How to create Google Meet Session
To create a Google Meet session you can either start one directly or send the link to the people you want to invite or create an event with Google Calendar by inviting the people who need to participate. By opening Google Meet you can therefore either join or start a meeting.
Google Meet for G-Suite users
The arrival of the free version will not deprive paying users of their benefits. Indeed, in G-Suite, Google Meet offers additional features such as the ability to provide a phone number to meeting participants so that they can connect to audio and participate, even if they do not have a smartphone.
Professionals will also be able to hold meetings with up to 250 participants (depending on their subscription) and public streaming (courses or conferences) which can be viewed by up to 100,000 spectators.
This version also allows the recording of conferences (or meetings) as a file stored on Google Drive (secure storage).
Note for teachers with a specific account that Google Meet can be integrated into Google Classroom.
Security and privacy on Google Meet (free and G-suite)
Whichever version of Meet you are using, security and privacy is your priority. To secure its meeting rooms, Google has decided to give access only to people with a Google account.
This is to prevent uninvited people who have a connection from entering the room when they have nothing to do there. You are therefore asked to log into your account to be able to log into the room.
To double this secure communications device, anyone with a Google account who arrives in a room without being on the guest list will land in a waiting room.
The main room administrator can then indicate whether or not this person can access the meeting. Besides, the hosts of the session can at any time silences or eject any person of his choice.
This authentication to access the rooms already resolves one of the known problems of videoconference rooms for which the access link is shared. Indeed these links are hackable by anyone (especially if they are shared in an insecure way), and the individuals possessing the link can access your conversations.
Meetings are in a secure flow (certainly not end to end, but it is already better than some competitors). The meetings are recorded in Google Drive (for G-Suite users), securely.
What are the latest features of Google Meet?
With the boom in demands for video conferencing services due to pandemic, Google has added several tools and features to Google Meet.
Even before making the service available to everyone, Google first made it available to all G-Suite users regardless of their subscription, allowing teachers to carry out their lessons, and healthcare workers to make video consultations, companies to hold meetings, etc.
Google continues to deploy its service so that it is accessible to everyone, with recent updates, you will be able to access Google Meet directly from the Gmail application on your smartphone.
Access will be via a specific tab, from which the user can create a new link and send it to the participants; it will even be possible to impose a participation password.
The application is, of course, available for download from the Google Play Store for phones with Android version 5.0 or higher.
But that's not all since Google Meet is also an online service accessible from a web browser (Google Chrome, Mozilla Firefox, Microsoft Edge, and Apple Safari ) so you can use it on any operating system. : Windows, Mac (macOS), Linux, etc.