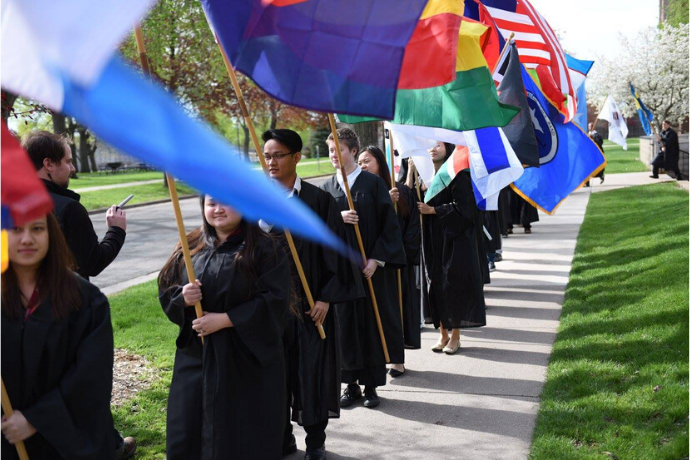 International Regent Scholarship – Augsburg University, USA.
After getting done from their high schools, students aim to get an education at the leading universities abroad, but not all students can fulfill this aim. Managing to finance and to search sponsorships for your study abroad program is mainly what hinders most of the students from fulfilling their goals. Augsburg University takes pride in its financial aid program, and like every year, Augsburg university provides financial aid to students applying for admissions in fall 2020. Undergraduate students who wish to seek education in the United States of America can avail of this opportunity. To know more about the details of this fully funded scholarship opportunity, read the full article below:
About Augsburg University
Since 1869, Augsburg University has been excelling in the field of liberal arts and professional studies. It is one of the leading and reputed institutes of the United States of America located at the heart of Minneapolis. Augsburg University provides a safe and welcoming space for thousands of students. It offers a welcoming environment to almost 3400 diverse students by accepting them for undergraduate and graduate degree programs. Augsburg University has been chosen as the 2020 Best Value School among the list of 26 top colleges and universities of Minnesota.
Why Augsburg?
You must be pondering that there are hundreds of study options in the USA, then why choose Augsburg? Here is why you should prefer Augsburg over other studies abroad programs. It lets you choose the subjects of your choice whether you want to opt for conventional subjects or wish to pursue professional fields. The faculty is trained to teach critical thinking and interpersonal skills in students that help them in their studies and help them in their professional life. Diversity at Augsburg campus provides an excellent environment for developing tolerance and cross-cultural skills in the students.
Scholarship details
International Regent Scholarship provides you the opportunity to get funded for any program you enroll in. It offers financial aid to students applying for undergraduate degree programs. This scholarship is worth $30,000 per year for a student availing campus residence facility, and it is $27,000 for a student availing off-campus residence facilities. It is valid for all international students. The access mode for this scholarship is online. This scholarship provides a high chance of pursuing education in the USA.
Deadline to apply
The last date to apply for this fully funded education opportunity is 15 August 2020.
Eligibility Information
Countries eligible for the scholarship:
Students belonging to any state or having any nationality are eligible to apply for Augsburg University scholarship.
Courses that can be accepted
The International Regents Scholarship at Augsburg University applies to all courses of the undergraduate degree program.
Criteria for securing Admission
To obtain an International Regents Scholarship, the student must ensure that he possesses an outstanding academic record in high school.
Application procedure
Financial aid application
There is no separate application and testing process to apply for this scholarship program. At the time of application, the student is directly entered into the pool of scholarship applicants if he is a non-native American and an International Student fulfilling all the requirements.
Supporting Documents
There are no documents required while submitting your application, but the applicant must provide all the supporting documents as the admission process proceeds
The requirement of Admission
To be a part of this scholarship program, the applicants must fulfill all the elements of securing Admission in the university.
Language proficiency
The non-native English speakers applying for the scholarship as International Students must show proof of their language proficiency by taking the English language test and secure at least the minimum marks that indicate the English Proficiency Requirement for Admission in Augsburg University.
Benefits
Apart from all the benefits students will be getting from pursuing an undergraduate degree abroad at one of the finest institutions of the United States of America. There are monetary benefits to this as well. The students applying for this scholarship will get the scholarship award worth $30,000 for students that avail on-campus accommodation. If the students choose to obtain residence off-campus, the living allowance will be $27,000.
Apply for International Regel Scholarship at Augsburg University now
Azka Noor is a member of UNCTAD Youth Action Hub, Pakistan, and a student of Economics and Political Science at the Lahore University of Management Science. She has specialized in Search Engine Optimization from The University of California, Davis. The author is an avid researcher aiming to shape the lives of millions by pursuing a career in Education and Public Policy and digitally impacting lives by developing effective content marketing strategies.