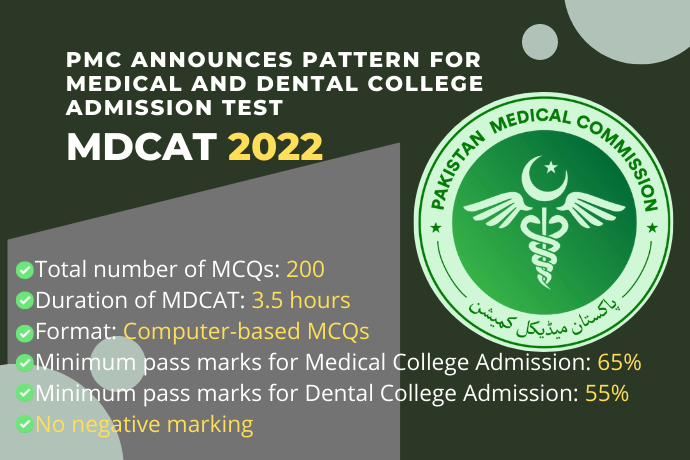 Medical and Dental College Admission Test MDCAT 2022
The MDCAT is required for admission to medical and dental schools in Pakistan. PMC administers the MDCAT usually 3-4 months following the FSC test. MDCAT is usually held online from September 7th through September 30th. The final date has been revealed. The MDCAT is required for admission to medical and dental schools in Pakistan. This year, almost 200,000 students will take the MDCAT, which is 70,000 more than the previous year. Pakistan holds a competitive test called MDCAT to choose its future medical professionals. This test is taken by over 190,000 pupils from all across Pakistan. Many repeaters and new applicants show up for the examination to pass it and gain admission to a medical school.
Eligibility requirements
•  The candidate's intermediate grade point average must be at least 70%.
•  Candidate must receive at least 70% on the MDCAT.
Structure of The MDCAT Test
•  Total number of MCQs: 200
•  Duration of MDCAT: 3.5 hours
•  Format: Computer-based MCQs
•  Minimum pass marks for Medical College Admission: 65%
•  Minimum pass marks for Dental College Admission: 55%
•  No negative marking
2022 National MDCAT Test Subject wise Weightage Percentage

Note: In Biology, Chemistry and Physics section, 70% questions will be recall and 30% will be application level.
Difficulty Level Percentage
•  20 % MCQs —– Easy
•  60% MCQs—— Moderate
•  20% MCQs—— Hard
MDCAT Logical Reasoning MCQs
What is a test of logical reasoning? A particular kind of IQ test used to gauge your problem-solving abilities is the logical reasoning test. They take many different shapes, but they all serve the same fundamental objective: to gauge your capacity for reasoning and your capacity for drawing inferences from a given body of data.
There is no prerequisite knowledge needed. Instead, it uses broad intelligence, much like a traditional IQ test. The majorities of national and all foreign entrance tests, as well as job interviews, all include a section on logical thinking to evaluate candidates' personalities.
The announcement was made recently in a public notice: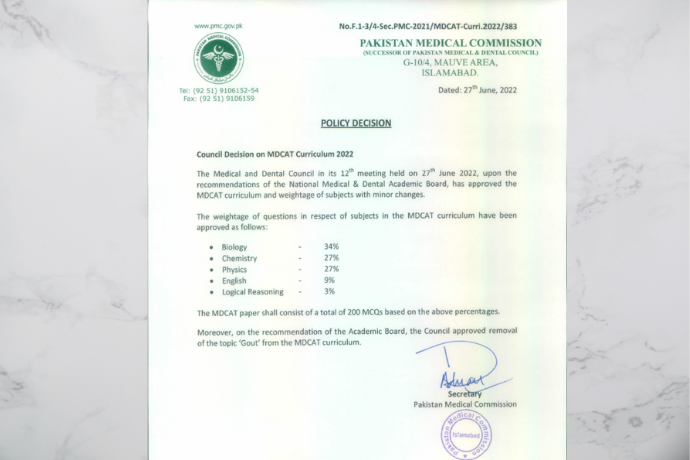 Total Seats
In the public and private health sectors, there are 6000 MBBS seats and 775 Seats for BDS for the year 2022.
Major Sections
Students must perform very well on this test, they must demonstrate their dedication to their future. The MDCAT Test has five sections and 200 multiple-choice questions.
Conclusion
Follow the syllabus rigorously and get ready for all the topics that are included. There is no need to stray from your syllabus preparation because the MDCAT Test's MCQs fully adhere to it.
Here are some MDCAT Books Recommended for Preparation:
•  NMDCAT Past Papers
•  National MDCAT Book By MBBS.COM.PK
•  Stars NMDCAT practice and prep books
•  Kips NMDCAT practice and prep books
•  Step National MDCAT practice and prep books
•  Redspot MDCAT practice books
•  Caravan NMDCAT practice books
•  Dogar's NMDCAT set
•  Kaplan MDCAT series
•  Barron's NMDCAT series
Here is the detailed syllabus for MDCAT 2022:
https://www.pmc.gov.pk/Documents/Examinations/MDCAT%20Curriculum%202022%20final.pdf
Keep visiting Educations.pk for more MDCAT updates