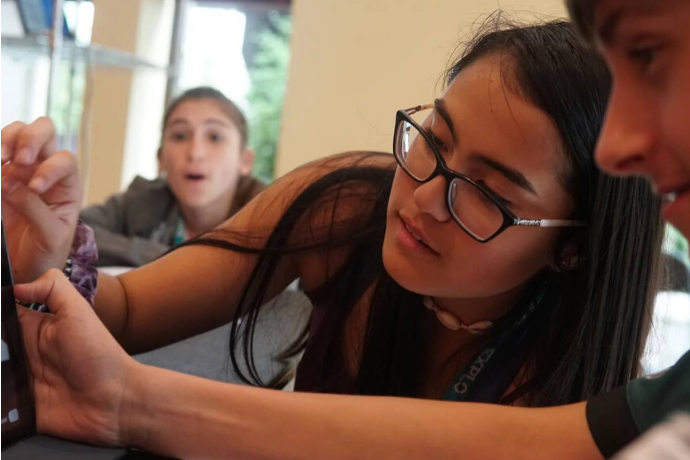 Orbit is here with the best interactive study method to keep your kids learning in the lock-down
Stressed about your children's education at home? This lockdown situation left many moms worried about their kids' education while keeping their heath safe from the virus. It raises serious concerns for mothers around the world to keep their kids busy with studies, so they are not moved away from learning while staying safe at home. There are interventions taken place in almost all the countries in the world to deal with this new threat lingering on our heads. In the education sector as well, the classes have moved online to not let students wander away from their coursework. Surveys about online classes have been done worldwide and the results haven't come out satisfactory. But does that mean the online educational system has failed altogether? And kids should lie resting in their homes without any education system in place? No! the greatest reason for the failure of the online education system came out to be exhaustive and it is less interactive. This problem has been catered to by one of the leading EdTech startups in Pakistan, Orbit.
About Orbit
Orbit is revolutionizing the education sector of Pakistan with Augmented Reality (AR) and Virtual Reality (VR) based App for kids of all ages. Orbit is an EdTech startup based in Pakistan. It was founded by Naveera Waheed and Wajiha Habib; two young, enthusiastic, and intelligent girls of Pakistan. They co-founded Cygnus Solutions, a software development company at the Technology Incubation Centre at NUST, and Orbit was their award-winning startup. Orbit was in competition with the best startups of 60 countries of the world and it outshined all other startups competing in Busan Global Smart Cities Challenge held in Busan, South Korea in 2017.
Orbit's vision
Orbit claims to ease the path of education, for the sake of deep learning and understanding concepts, for the young generation as it transforms words into reality.
How does Orbit work as a learning tool?
The user-friendly interface of Orbit, an easy to use the application, makes it convenient for children to see 2D concepts described in words and feel them around in 3D as they interact with the app. It aims to revolutionize the learning experience for kids from Kindergarten to 12th grade. It's a unique feature of presenting 2D concepts in 3D visuals by using Augmented Reality and Virtual Reality. Visuals and animations help to strengthen the knowledge and invoke conceptual learning in students rather than just cramming words and producing them during exams. It is easy to use, an interactive application that costs a very low price for a subscription. But this amount is worth the learning experience it provides. It is accessible to all students and instructors around the world.
It makes learning fun for the students as they fascinatingly interact with technology. During the lockdown, they lose motivation to study and find it difficult to focus on the concepts. Most of the kids study because their mothers force them to. Orbit is the perfect study buddy you can have for your children to help them focus on important concepts that they are missing out on because of remote education.
Orbit does not only help students build their concepts strong but also help teachers in many ways. It is an excellent teaching tool for teachers who want to let their students experience the work of AR and VR and use it for educational purposes. Orbit makes their classes fun and learn and assist them in teaching tough concepts with much ease. It makes both learning and teaching experience wholesome for both students and teachers.
Benefits of adding Orbit experience in your kids online learning
Orbit has improved the overall educational experience of students. It has innovated the education sector and has proved itself helpful both in class and out of class. With kids forced to study at home, Orbit is playing a great role in shaping their learning experience. With online education taking away the most important part of education, interactive learning, Orbit is compensating for this part of education well. It has proved to make a difference as the following stats show.
Better grades
Orbit conducted its research to get to know the difference it is making in the education sector. It proved that 86% of the students got better grades after being exposed to the AR learning tool.
Increased curiosity
98% of the kids were more curious to learn things through AR.
Increased engagement
78% of students seemed to be more engaged due to the interactive interface of the app.
Better understanding
98% showed that they understood the concepts better when aided with 3D models and videos.
To know more about the pricing and subscription plans, visit their website.
Azka Noor is a member of UNCTAD Youth Action Hub, Pakistan, and a student of Economics and Political Science at the Lahore University of Management Science. She has specialized in Search Engine Optimization from The University of California, Davis. The author is an avid researcher aiming to shape the lives of millions by pursuing a career in Education and Public Policy and digitally impacting lives by developing effective content marketing strategies.