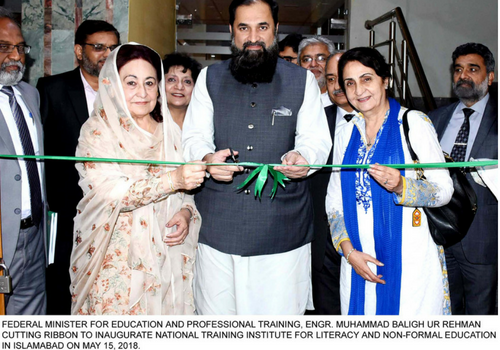 National Training Institute
Pakistan's formal education system struggles to deliver quality education. Further, it has failed to provide equitable access to all. Hence the country's efforts to meet the Millennium Development Goals (MDGs) and education for all, demands a different form of education. According to research about one-third of children from South Asia who are out of school belong to Pakistan. Hence serious steps need to be taken to address this issue.
The National Commission for Human Development (NCHD) has established the National Training Institute (NTI) in order to train educators in non-formal education so that Pakistan can attain 90% literacy rate throughout the country. This institute is the first of its kind in Pakistan.
Now, what is non-formal education?
"Non-formal education consists of education activities other than the formal standardized education system provided by the government or an international examination syndicate board."
Source: UNESCO
In Pakistan it is provided via the following:
Non-formal basic education community or home schools
Training centers teaching vocational skills
Literacy centers providing education to adults
Religious schools like madrassas
 The purpose of the National Training Institute is to train professionals in the field of non-formal education. About 57 million illiterates in the country need this kind of support and training. The formal system of education is playing its role but the rate at which it is increasing the literacy rate of the country, Pakistan can only achieve 68% literacy rate by the year 2025. There are about 57 million adults and 6.4 million children aged 8 to 14 years that remain illiterate. To reach these people non-formal education is necessary.
The goals of NTI are:
Developing manuals and modules and conduct training for trainers in the field of non-formal education
Designing and developing learning resource packs for students
Conducting research to identify grey areas to enhance the non-formal education system
Another major aim of NTI is to introduce a multi-grade teaching system. This system enables trainers to teach students of different grades. This is especially beneficial for countries like Pakistan where the cost of hiring teachers for individual grades can be an obstacle. Under-developed countries are finding this system very useful as this is a cost-effective means of achieving high literacy rates.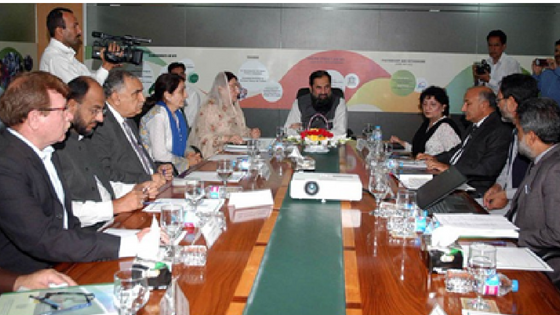 ISLAMABAD: May 15 – Federal Minister for Education and Professional Training Engr. Muhammad Baligh ur Rehman chairing a meeting after the inauguration of National Training Institute for Literacy and NFE. APP photo by Javed Qureshi
We must appreciate this effort by the government of Pakistan. As a citizen of the country, we need to promote such projects and share this information with people who can benefit from it. Kindly share the article with others in order to provide support to people who need it and to encourage institutes working for the education of Pakistan.